"We truly love and enjoy what we do and believe that this is central to ensuring the best experience for both our customers and ourselves. "
The Modern Greengrocer is the brain child of Steve Golding and Joe Turner and was started at the beginning of 2016. Both guys have lived and worked in and around the Essex area for the last 25+ years and have a great understanding of the local environment. Although not related, Steve and Joe have developed a great bond across the 22 years they have known each other and genuinely have a family like relationship.
Steve is a second generation Greengrocer with over 40 years experience in the business. He's owned successful shops in Harlow and Stansted and more recently, since 2011, at his stall in Dunmow next to the infamous Sweetlands Butchers. Across these years, Steve has gained an unrivalled knowledge of the industry and developed a great talent for product buying- a key skill in order to achieve the best products at the most competitive prices for our customers. Steve has supplied goods to both wholesale and retail customers and really does know his onions!
Joe started working as Steve's Saturday boy in 2009 at his Stansted shop and then moved over with him to help run the Dunmow stall back in 2011. Across these 7 years Joe developed a good understanding of the industry, working from the bottom up. Having graduated from the University of Nottingham in 2015 Joe decided that he wanted to make his own mark on the business world and began to create the concept that became, The Modern Greengrocer. A keen chef with several years experience working in commercial kitchens, Joe is always creating new dishes and loves helping customers with how to cook their produce and create that perfect dish- so why not ask him what his current speciality is?
With 4 Years of Business under its belt The Modern Greengrocer continues to go from strength to strength and together, the pair form the perfect partnership.
We at The Modern Greengrocer wanted to create a top class alternative option for our customers who want to shop local and support local Essex businesses, but maybe do not have the time to visit the high street. We truly believe in supporting local businesses and the importance of the high street to the heritage of our country but realised, that in order for it to survive, it needed to evolve..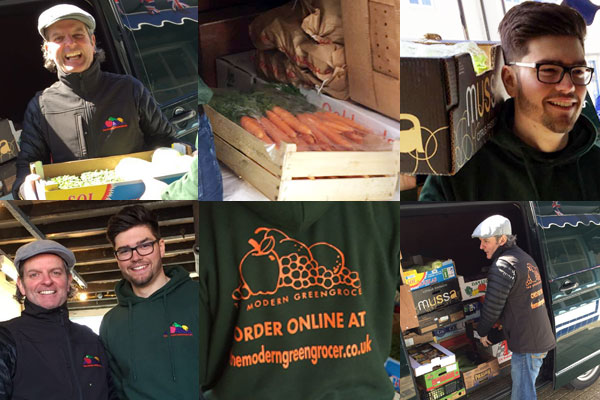 At The Modern Greengrocer we pride ourselves on our 5 Core Principles:
Fresh Produce
Quality and freshness is paramount to what we do and we purchase our produce 6 nights a week at Spitalfields market to ensure this.
Responsibly sourced
As far as possible we support local Essex farmers and producers and believe strongly in seasonal produce.
Competitively priced
Quality costs but it shouldn't cost the earth. All our products are competitively priced and we guarantee it's cheaper than you might think!
Conveniently supplied
We all live hectic lives but why should that affect the quality of our produce. Order online and sit back and wait for a delicious box of produce to arrive at your door.
Traditional Experience
Although it's a modern concept, the traditional service shouldn't be affected and we believe it should feel just like it did when your mum bought from the local market stall.